Since 2008, a major effort has been made in the research and development of a new detection apparatus using digital techniques, the FAZIA project. This project was born from the collaboration of a dozen European laboratories (France, Italy, Poland, Spain, Romania) including about fifty physicists, engineers and technicians who joined together to build a new generation multidetector, using the latest technologies available in detection and associated electronics. The strong point of FAZIA is to allow the complete identification, in terms of atomic number Z and mass A, of all the reaction products between Z=1 and Z=20-25 as shown in figure 3. This performance is unique and can currently only be surpassed by using a magnetic spectrometer, at the cost of adjustments that are often complex.
Schéma du couplage entre INDRA (à gauche) et le démonstrateur FAZIA (à droite) en configuration pour l'expérience E789 au GANIL en Mars 2019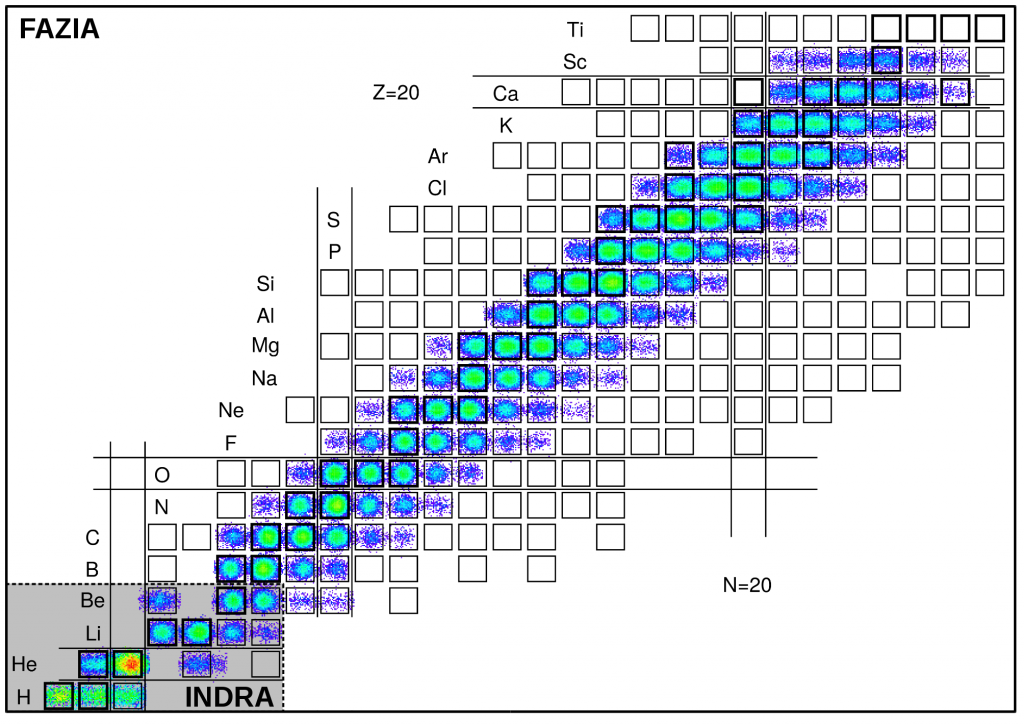 The data are from the FAZIASYM experiment performed at LNS Catania in June 2016 on the 40Ca+40Ca system at 35 MeV per nucleon.
After a R&D phase of a few years with many experiments done at LNS Catania in Sicily, the FAZIA collaboration has developed a fully operational demonstrator comprising 192 Silicon-Silicon-CsI detection telescopes organized in 12 blocks of 16 telescopes. Each block includes its own on-board electronics (analog+digital) which has been specially developed by the collaboration. A collaboration has moreover been initiated in 2018 with several laboratories in South Korea in order to continue to develop ever more efficient and integrated electronics. The demonstrator is currently coupled with the INDRA multidetector (Figure 4) in order to provide the most efficient detection equipment in its field at the international level.