Cluster production in hot and diluted nuclear material
A request for an experiment has been made to the next GANIL PAC in September 2020. It is an experiment aiming to extend our knowledge on cluster production (light nuclei with mass less than 15) in the hot and sparse nuclear medium (ρ<ρ0/6), as encountered in the collapse phases of supernovae. Indeed, theoretical studies show that effects due to the nuclear medium modify the cluster production rates and must explicitly be taken into account to describe the observed rates. This is illustrated in the figure below which presents the chemical equilibrium constants of 6 light nuclei (clusters) as a function of the density. These constants are directly related to the production rates of these clusters. The shaded areas give the theoretical predictions associated with a relativistic mean field (RMF) model taking into account the medium effects. The agreement obtained is excellent and demonstrates the fact that the effects related to the nuclear medium (density and temperature) must be taken into account for the description of the low density and hot nuclear matter, such as it is present in the collapse phases of supernovae. These first results of the INDRA collaboration have been published in a scientific news from IN2P3.
The cluster production rate is also important because it conditions the thermal properties (conductivity and opacity) of the protoneutron star. This is why the INDRA-FAZIA collaboration wishes to continue to study the most violent events obtained during the vaporization phase of light systems such as 58Ni+58Ni or 40Ar+58Ni at high energy, here 74 MeV per nucleon, in order to refine and extend the experimental results to heavier clusters (Z>2). The combination of INDRA and FAZIA detectors will then be decisive to obtain the most accurate information on the cluster production rates in such events, as a function of density and temperature.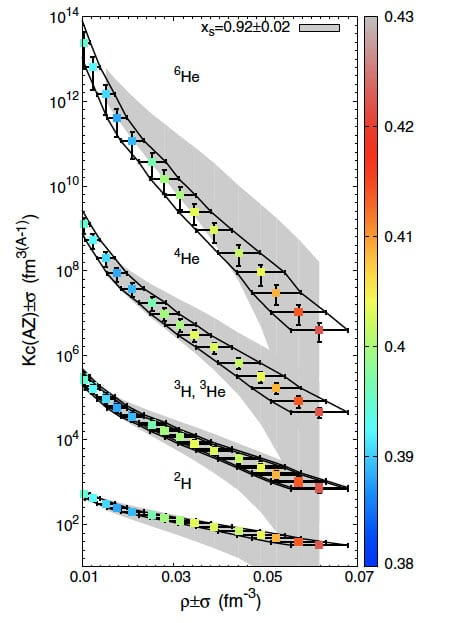 Extrait de H. Pais, R. Bougault et al., Physical Review Letters 125, 012701 (2020)