Instrumentation & detectors
The Instrumentation department implements a large part of the nuclear instrumentation chain: from the design of detectors to data acquisition, including the sizing of pumping systems and monitoring and control, to signal and information processing
The instrumentation department is involved in many of the laboratory's projects and also develops on an ad hoc basis within the framework of industrial contracts. The department includes many skills and is divided into several areas of activity.
Physical measurements and simulations
The department has five measurement chains that are always functional. With these devices, the laboratory can carry out non-destructive measurements of low concentrations of radioelements or stable elements in liquid or solid samples. These chains are regularly used for training or services for industrialists.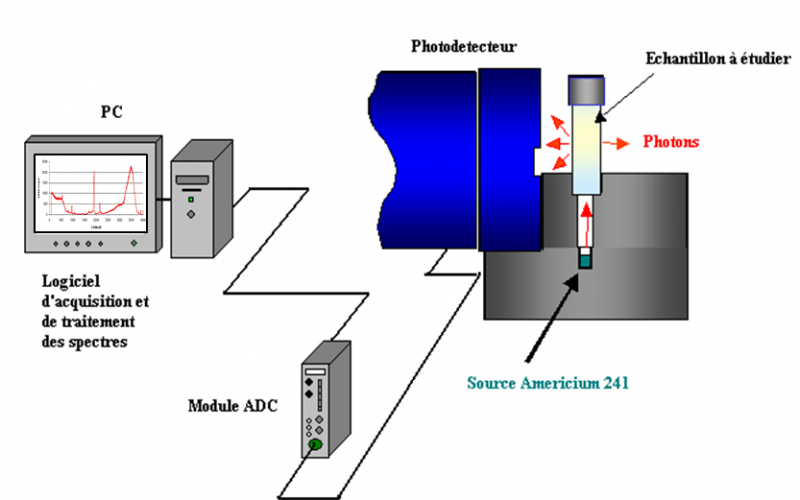 To implement X-ray fluorescence or attenuation measurement, the laboratory has a room dedicated to two X-ray generators (150 kV-500 µA target W and 50 kV-200 µA target Ag).
The laboratory also manages the radioactive sources, useful for the calibration of detectors.
Several detectors are available:
Two hyper-pure Germanium detectors,
A Silicon-Lithium detector,
A silicon detector,
A CdTe detector,
Ionization chambers and a reference electrometer for dosimetry.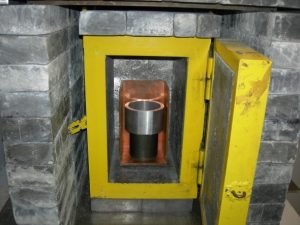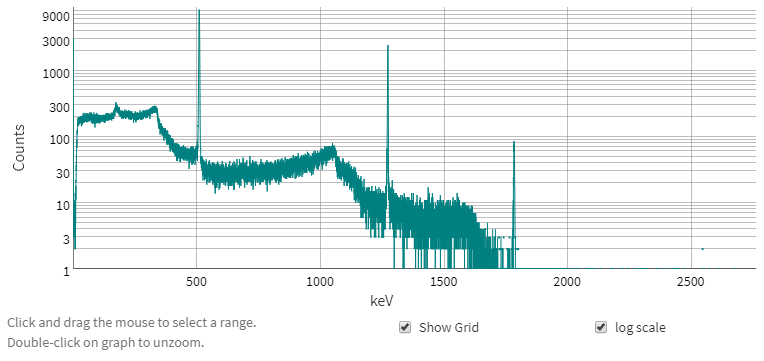 The department produces the detectors dedicated to the laboratory's nuclear physics experiments.
The role of a nuclear physics detector is to access one or more pieces of information relating to the particles to be detected, such as their energy and location. It is adapted to each experiment. Some detectors present a real technological challenge, and require the design and prior development of tools for their manufacture.
The department develops the following three types of detectors:
Gas detectors: ionization chambers, parallel avalanche plates, multi-wire chambers.
Solid state detectors: Phoswich, integration of microchannel wafers, silicon wafers, diamond detectors.
Scintillation detectors: integration of plastic or crystal scintillators, light guides with complex geometry, photomultipliers, SiPM or photodiodes.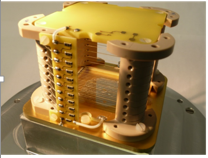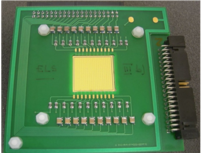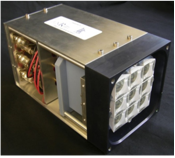 In addition to a great know-how in gluing, weaving, electrical contact recovery, EMC, vacuum resistance, gas circulation, the laboratory has specific equipment:
An electron gun metal evaporator for thin film deposition:
Deposition from 10 to 500 nm
Materials: Au, Al, Si, Fe, Cr, NiCr, NiMo, Ti, Pt …
Substrates: Mylar, Si wafer, Diamond, plastic
Sample size: up to 55 cm x 45 cm.
Strip plans: strip > 1mm and Inter-strip > 50µm.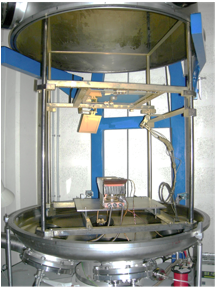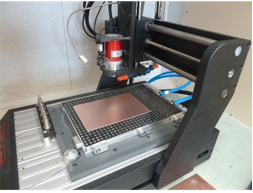 A Technodrill micro-milling machine for the production of epoxy plates with specific geometries (routing, lamination…).

A laminar flow hood in a clean room for the installation of detectors.
The department ensures the study, dimensioning and installation of pumping systems from primary vacuum to ultra-high vacuum.
It also carries out, if necessary, the study, design and development of automated devices for gas injection, regulation of pressure and flow rate of injected gas (Ar, C4H10, CF4, He3) in detectors.
This cluster develops complete control and command systems, as well as the associated human-machine interfaces, for the experimental devices used in the laboratory. These devices can be, for example, vacuum pumps, gauges, valves, mass flow controllers, thrusters, low and high voltage power supplies, function generators, motors, radio frequency amplifiers, counting scales, etc.
For these developments, the department masters Client/Server and EPICS architectures, several programming languages (Python, C) and several communication protocols (SCPI, Modbus TCP, Profibus, CAN…). It uses programmable logic controllers (Siemens, Crouzet, Schneider…) and specific software for their programming (LabView, LabWindows CVI, Millénium 3, Tia Portal, EcoStruxure Control Expert).
Data acquisition and digital signal processing
This division manages the development of several data acquisition or digital signal and information processing projects.
The FASTER (Fast Acquisition SysTem for nuclear Research) project proposes a global solution for real-time digital acquisition, entirely generic and modular, reconfigurable at will for most nuclear physics experiments from one to a few hundred measurement channels, with no a priori on the experiment. Signal processing is integrated on FPGA (spectrometry by CR-RC4 filter and trapezoidal, QDC, TDC), with a dead time reduced to the signal sampling period. Multiple decision levels (local, regional, global trigger) and a wide variety of decision modes (selections, filtering, feedback, on-line processing) are available. The FASTER system can record up to 5 million pre-processed measurements. The team working on the project has designed and developed its own electronic boards (mother board in µTCA format, daughter board in VITA57 standard).
For industrial contracts, this unit has also developed data processing and detector servo-control (beam monitor, real-time energy calibrated dosimeter).
Medical information processing and modeling
With the aim of analyzing the effects of cancer radiotherapy treatment within the framework of the PMRT project, the department is also involved in the processing of medical information.
The department has developed the ArDCore software which allows to simplify as much as possible the operation of archiving radiotherapy data (scanner, MRI, organ contours, dose, clinical follow-up data), in the form of structured patient files secured by encryption. It also allows, after a request for availability, and while managing patient consent, to decrypt and anonymize data if necessary and gives access to a quick view of the patient's medical ontology. The software processes files in DICOM format, some data in pdf format and clinical data spreadsheets.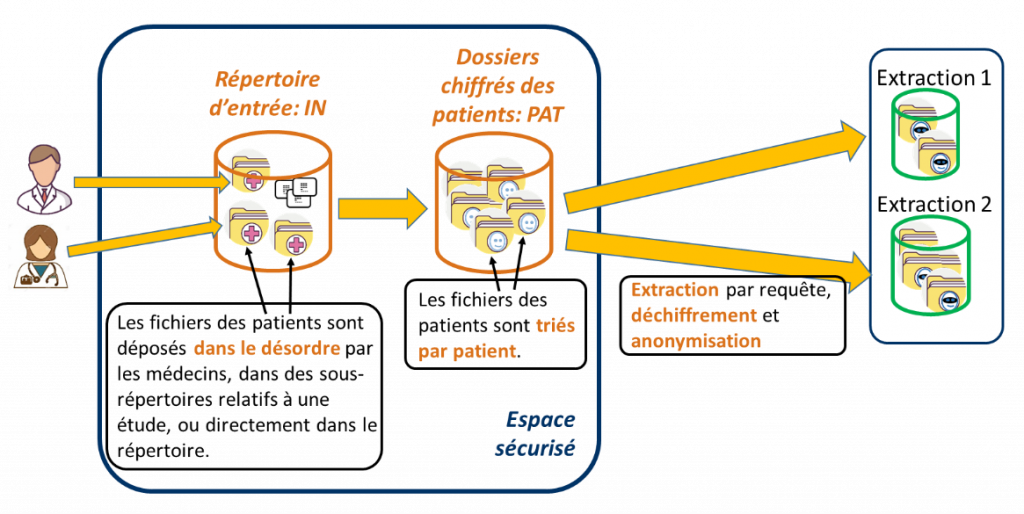 The department also actively participated in the development of the R espadon package. This package was built for developers to simplify access to data stored in DICOM format, in order to produce features (high-level information) for Machine Learning. It frees the developer from the knowledge of referential systems and image meshing, and allows, among other things, the 1D, 2D and 3D visualization of objects.